Pear Cheese Tarts with Agave and Hazelnuts
_ (17-ounce) box frozen puff pastry
_ pear, cored and quartered
_ lemon, zested and juiced
_ tablespoons agave
_ (8-ounce) package cream cheese
___ cup agave
_ tablespoons all-purpose flour
_ eggs
___ cup chopped hazelnuts

Pear Cheese Tarts with Agave and Hazelnuts is from the Cook'n with Agave collection.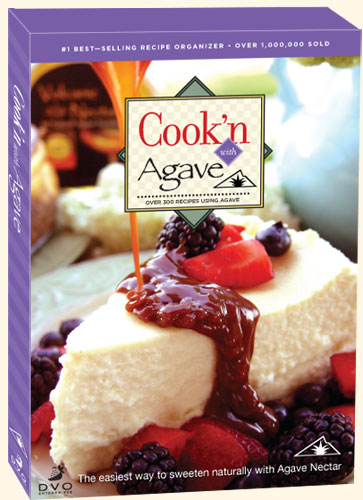 Click here to view over 300 more agave recipes right now!

Only $14.95 for the CD!


Remove puff pastry from freezer 30 minutes before using. Preheat oven to 400°F. Cut pear into thin slices. In small bowl, combine pear, 1 tablespoon lemon juice and 1 tablespoon agave. Reserve another 1 tablespoon agave in a small heatproof bowl. Use a mixer to beat the cream cheese until smooth. Scrape down the sides and add the agave, flour and lemon zest. Mix until smooth. Add the eggs, scrape down the sides again and mix until very smooth. Cut half of the pastry sheets into 9 squares. Spray a muffin tin with baking spray. Carefully fit 1 square into each muffin cup. Fill each cup with 2 tablespoons cheese mixture. Cut pear slices to fit muffin tin. Fan 3 or 4 slices of pear over each cup and sprinkle with 1 teaspoon hazelnuts. Freeze 10 to 15 minutes to firm pastry.

Bake cold tarts until pastry is lightly browned and cheese is puffed, about 20 minutes. Cut 9 more pastry squares and repeat filling and baking. Microwave reserved agave 5 seconds on high and drizzle tarts with warm agave. Let tarts sit 10 to 15 minutes before serving or refrigerate and reheat in a 350°F oven for 10 minutes.

Volcanic Nectar - Agave Nectar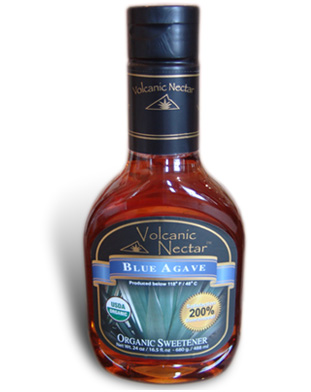 Turn your recipes into sensations with a 24 oz bottle of Agave Nectar! Perfect for pies, pastries, ice creams, cookies, pancakes, drinks, smoothies, and baked goods.
The ONLY Agave to have all of these!


REMEMBER: FREE Shipping on all Purchases of AGAVE NECTAR when you spend over $45!!!