Frozen Chocolate Peanut Butter Cake
_ (3-ounce) package lady fingers
_ quart chocolate ice cream, slightly softened
_ cup creamy peanut butter
_ (8-ounce) package cream cheese, softened
___ cup agave
___ cup heavy cream

CHOCOLATE SAUCE:
___ cup agave
___ cup cream
___ cup unsweetened baking cocoa
1/2 teaspoon vanilla extract

Frozen Chocolate Peanut Butter Cake is from the Cook'n with Agave collection.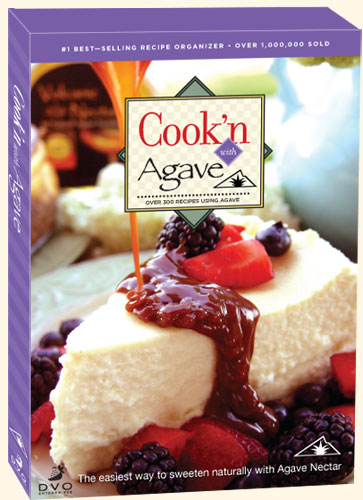 Click here to view over 300 more agave recipes right now!

Only $14.95 for the CD!


Press lady fingers, curved side facing out, upright around sides of a 9-inch springform pan. Pack ice cream in even layer into bottom of pan; freeze while preparing peanut butter mixture. In a medium bowl, mix together peanut butter, cream cheese, and until well blended. Whip cream until soft peaks form; fold into peanut butter mixture. Spread peanut butter mixture over chocolate ice cream layer in pan. Top evenly with cooled chocolate sauce. Freeze 2-3 hours, or until firm, before serving.

CHOCOLATE SAUCE: In a small saucepan, combine agave, cream, cocoa powder and vanilla. Cook about 5 minutes, stirring constantly, over medium heat, until mixture is well blended and smooth. Set aside; cool to room temperature.

Volcanic Nectar - Agave Nectar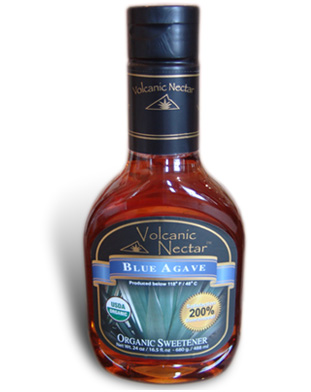 Turn your recipes into sensations with a 24 oz bottle of Agave Nectar! Perfect for pies, pastries, ice creams, cookies, pancakes, drinks, smoothies, and baked goods.
The ONLY Agave to have all of these!


REMEMBER: FREE Shipping on all Purchases of AGAVE NECTAR when you spend over $45!!!