Agave Chicken with Apricots
_ 1/2 pounds whole chicken, cut into quarters
Salt
Ground allspice
_ tablespoon butter or margarine
_ tablespoon oil
_ onion, thinly sliced
_ clove garlic, minced or pressed
___ teaspoon ground turmeric
___ teaspoon ground ginger
___ teaspoon ground coriander
_ cinnamon stick, 2 to 3-inches
___ cup water
___ cup agave
_ lemon, thinly sliced with seeds removed
_ apricot, pitted and quartered

Agave Chicken with Apricots is from the Cook'n with Agave collection.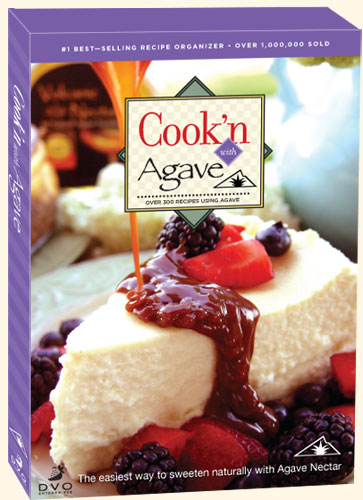 Click here to view over 300 more agave recipes right now!

Only $14.95 for the CD!


Sprinkle chicken lightly on all sides with salt and allspice. In a large, deep skillet over medium heat, melt butter with oil. Add chicken and brown well on all sides. When chicken pieces are nearly browned on last side, discard all but a scant 2 tablespoons of the drippings. Then add onion and garlic around chicken. Sprinkle with turmeric, ginger, and coriander. Add cinnamon stick. Add the water and agave, arrange lemon slices in a single layer over chicken. Bring to a boil, cover, reduce heat, and simmer until chicken is tender (45 to 50 minutes). Remove chicken and lemons to a warm, deep serving platter and keep warm. Bring liquid to a boil over high heat, stirring to blend in brown drippings from skillet, and reduce until syrupy. Add apricots, turning them in the sauce just long enough to glaze and heat through. Spoon sauce and apricots over chicken and serve.

Volcanic Nectar - Agave Nectar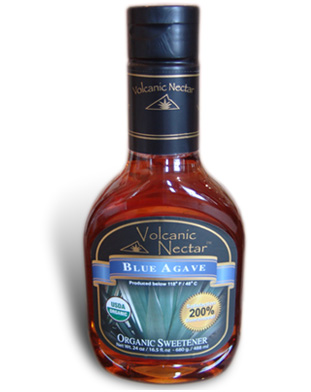 Turn your recipes into sensations with a 24 oz bottle of Agave Nectar! Perfect for pies, pastries, ice creams, cookies, pancakes, drinks, smoothies, and baked goods.
The ONLY Agave to have all of these!


REMEMBER: FREE Shipping on all Purchases of AGAVE NECTAR when you spend over $45!!!