Apricot Glazed Chicken
_ to 5 pounds chicken
_ cup seedless red or green grapes, plus cluster for garnish
_ tablespoons agave, divided
_ (15 1/4-ounce) can apricot halves
___ cup butter, melted
_ teaspoons seasoned salt
___ teaspoon black pepper
___ cup dry white wine

Apricot Glazed Chicken is from the Cook'n with Agave collection.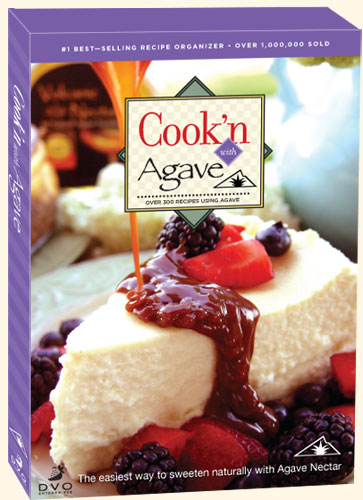 Click here to view over 300 more agave recipes right now!

Only $14.95 for the CD!


Rinse chicken in cold water and pat dry with paper towels. Stuff body cavity with 1 cup grapes that have been tossed with 2 tablespoons agave. Tie legs close to body and fold wing tips back or secure with skewers or twine. Place chicken breast side up on rack in shallow roasting pan.

Drain apricot halves, reserving syrup. Set aside 6 halves for garnish. Process remaining apricots in blender with melted butter, seasoned salt and pepper and remaining 2 tablespoons agave. Brush over chicken. Pour wine and 1/4 cup apricot syrup in bottom of pan. Cover chicken loosely with tent of aluminum foil. Roast at 325°F for 2-1/2 to 3 hours or until chicken is tender. Baste occasionally with pan drippings to glaze. Remove foil during last 30 minutes of roasting. Serve chicken on platter garnished with clusters of green grapes and apricot halves.
Volcanic Nectar - Agave Nectar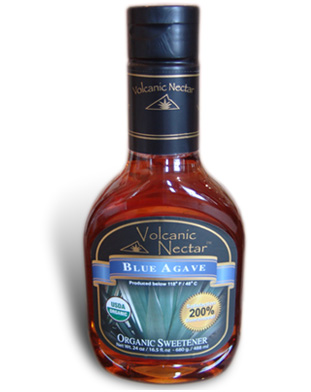 Turn your recipes into sensations with a 24 oz bottle of Agave Nectar! Perfect for pies, pastries, ice creams, cookies, pancakes, drinks, smoothies, and baked goods.
The ONLY Agave to have all of these!


REMEMBER: FREE Shipping on all Purchases of AGAVE NECTAR when you spend over $45!!!